Meet Lynn!
Lynn McPhelimy is a popular motivational speaker and the author of the national best seller "In The Checklist of Life."
Her appearances on "The Oprah Winfrey Show" and "The Today Show" gained her national acclaim for her humor, warmth and practical approach to planning for the future. She is the subject of an hour-long nationally distributed public television special entitled "In the Checklist of Life with Lynn McPhelimy.
A high-energy, entertaining storyteller, Lynn has been invited to be the keynote speaker, seminar and workshop presenter to diverse audiences in corporate, healthcaare, financial, educational, legal, armed forces and faith-based sectors.
In 1999, she founded Moving and More, LLC (www.MovingAndMoreCT.com). She assists older adults and their families who are in transition and are downsizing in place or moving from their homes to alternative living situations by bringing objectivity, experience, individual attention and caring to the arduous decision-making and relocation process. She advocates for her clients to ensure they receive the support, guidance and quality of care-emotional and physical-that they deserve for their own unique situation with as little stress as possible.

Lynn is a magna cum laude graduate of Boston College and holds an MBA from the University of Hartford. She serves on the Board of Directors of the National Speakers Association [CT Chapter] and the Middlesex County (CT) Chamber of Commerce. She is past Executive Director of the Connecticut Coalition to Improve End-of-Life Care.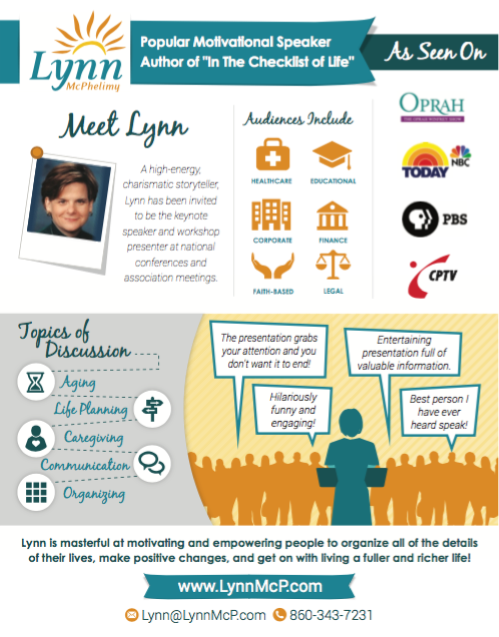 Mailing Address:
Lynn McPhelimy
PO Box 102
Rockfall, CT 06481

Phone: (860) 343-7231
E-Mail: Lynn@LynnMcP.com